Get excited! It's a new week, with fab new releases, and we're here to give you the low down on what's not-to-be-missed in the world of YA.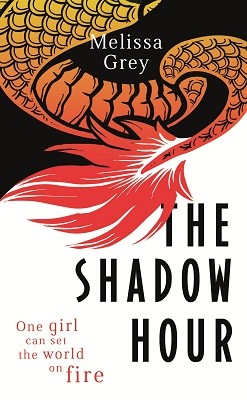 'The Shadow Hour' (The Girl at Midnight #2) by Melissa Grey
Everything in Echo's life changed in a blinding flash when she learned the startling truth: she is the firebird, the creature of light that is said to bring peace.
The firebird has come into the world, but it has not come alone.
Echo has already lost her home, her family, and her boyfriend. Now, as the firebird, her path is filled with even greater dangers than the ones she's already overcome.
She knows the Dragon Prince will not fall without a fight.
Echo must decide: can she wield the power of her true nature–or will it prove too strong for her, and burn what's left of her world to the ground?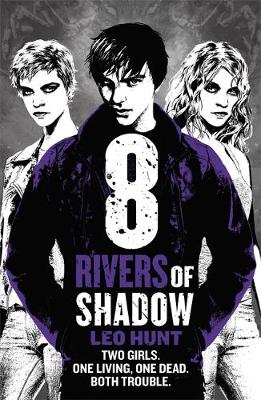 '8 Rivers of Shadow' (13 Days of Midnight #2) by Leo Hunt
It's been a few months since Luke Manchett inherited a Host of eight hostile spirits from his dead father and made a deal with the devil to banish them. Luke's doing his best to blend in to the background of high school, to ignore the haunting dreams spawned by his father's Book of Eight, and to enjoy the one good thing to come from the whole mess: his girlfriend, Elza. And then it all begins again. Ash, a strange new girl with stark white hair, requests his help—and his Book of Eight—to save her twin sister, who was attacked by a demon. Ash knows a lot more about necromancy than Luke and seems to know what she's doing, but can she be trusted? As Luke is drawn into a spiral of ever more dangerous favours, he finds himself not only summoning the deadliest members of his father's Host, but returning to Deadside in a terrifying quest to save what he holds dearest—or die trying.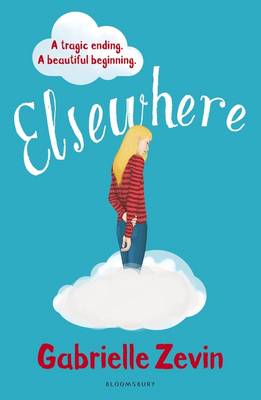 'Elsewhere' by Gabrielle Zevin
Killed in a hit-and-run accident, Liz's 'life' takes an unexpected turn. She knows that she will never marry, have children or maybe never even fall in love – but in the land called Elsewhere, things carry on pretty much as normal.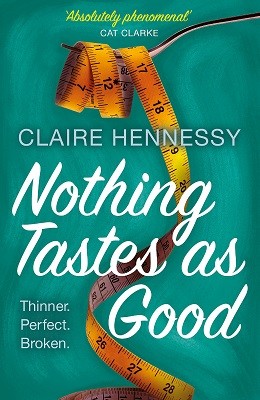 'Nothing Tastes as Good' by Claire Hennessy
What happens when you give in to the voices in your head? Annabel is dead. And she's not happy about it. Despite having  strived to be 'lighter than air' back when she was alive, the consequences of that yearning haven't quite sunk in yet.
Julia Jacobs is fat. Which Annabel immediately notices when she's assigned as Julia's ghostly helper (don't even think about calling her a guardian angel). And as her helper, Julia's problem seems pretty obvious to Annabel. Fat = problem = unhappy. Sorted. The only trouble is that whatever is causing Julia to overeat is hidden deep within her. Annabel will have to get to know Julia to uncover this secret and 'fix' her. Annabel can become the voice of reason, Julia's source of strength. Except…all this time spent in someone's head has got Annabel thinking. Not just about food, but about her family too. And that maybe happiness can mean more than eradicating all the flesh from your bones.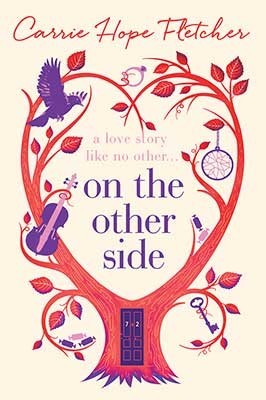 'On the Other Side' by Carrie Hope Fletcher
Evie Snow is eighty-two when she quietly passes away in her sleep, surrounded by her children and grandchildren. It's the way most people wish to leave the world but when Evie reaches the door of her own private heaven, she finds that she's become her twenty-seven-year-old self and the door won't open.
Evie's soul must be light enough to pass through so she needs to get rid of whatever is making her soul heavy. For Evie, this means unburdening herself of the three secrets that have weighed her down for over fifty years, so she must find a way to reveal them before it's too late. As Evie begins the journey of a lifetime, she learns more about life and love than she ever thought possible, and somehow , some way, she may also find her way back to her long lost love…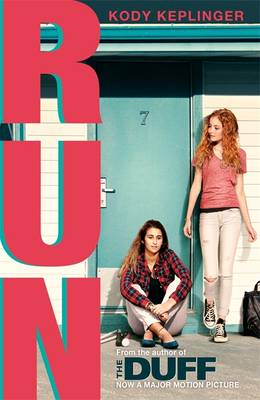 'Run' by Kody Keplinger
Bo Dickinson is a girl with a wild reputation, a deadbeat dad, and an alcoholic mom. Everyone in town knows the Dickinsons are a bad lot, but Bo doesn't care what anyone thinks.
Agnes Atwood has never stayed out past ten p.m., never gone on a date and never broken any of her parents' overbearing rules. Rules that are meant to protect their legally blind daughter – but Agnes isn't quite sure what they are protecting her from.
Despite everything, Bo and Agnes become best friends. And it's the sort of friendship that runs truer and deeper than anything else. So when Bo shows up in the middle of the night, police sirens wailing in the distance, desperate to get out of town, Agnes doesn't hesitate to take off with her. But running away and not getting caught will require stealing a car, tracking down Bo's dad, staying ahead of the authorities, and – worst of all – confronting some ugly secrets. A story about the ferocity of friendship and the risks we'll take to save our friends… And ourselves.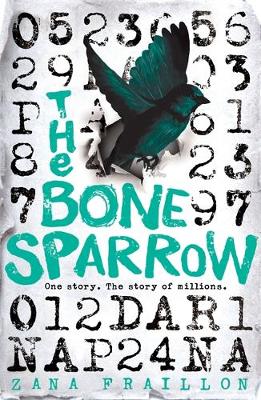 'The Bone Sparrow' by Zana Fraillon
Subhi is a refugee. Born in an Australian permanent detention center after his mother and sister fled the violence of a distant homeland, Subhi has only ever known life behind the fences. But his world is far bigger than that—every night, the magical Night Sea from his mother's stories brings him gifts, the faraway whales sing to him, and the birds tell their stories. And as he grows, his imagination threatens to burst beyond the limits of his containment.
The most vivid story of all, however, is the one that arrives one night in the form of Jimmie—a scruffy, impatient girl who appears on the other side of the wire fence and brings with her a notebook written by the mother she lost. Unable to read it herself, she relies on Subhi to unravel her family's love songs and tragedies.
Subhi and Jimmie might both find comfort—and maybe even freedom—as their tales unfold. But not until each has been braver than ever before.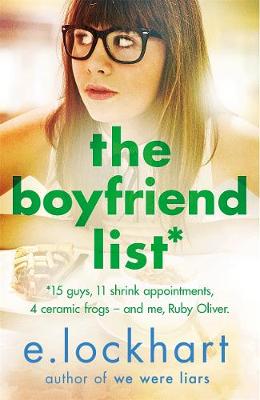 'The Boyfriend List' (Ruby Oliver #1) by E. Lockhart
Ruby Oliver is fifteen and has a shrink. But before you make up your mind about her, you should know that she has had a pretty awful (and eventful) past ten days. She has:
* lost her boyfriend
* lost her best friend (Kim)
* lost all her other friends (Nora, Cricket)
* did something suspicious with a boy
* did something advanced with a boy
* had an argument with a boy
* drank her first beer (someone handed it to her)
* got caught by her mom (ag!)
* had a panic attack (scary)
* lost a lacrosse game (she's the goalie)
* failed a math test (she'll make it up)
* hurt Meghan's feelings (even though they aren't really friends)
* became a social outcast (no one to sit with at lunch)
* and had graffiti written about her in the girls' bathroom (who knows what was in the boys'!?!).
But don't worry, Ruby lives to tell the tale. Through a special assignment to list all the boys she's ever had the slightest, little, any-kind-of-anything with, comes an unfortunate series of events that would be enough to send any girl in a panic.
The Boy Book (Ruby Oliver #2) by E. Lockhart
Here is how things stand at the beginning of newly-licensed driver Ruby Oliver's junior year at Tate Prep:
Kim: Not speaking. But far away in Tokyo.
Cricket: Not speaking.
Nora: Speaking–sort of. Chatted a couple times this summer when they bumped into each other outside of school–once shopping in the U District, and once in the Elliot Bay Bookstore. But she hadn't called Ruby, or anything.
Noel: Didn't care what anyone thinks.
Meghan: Didn't have any other friends.
Dr. Z: Speaking.
And Jackson. The big one. Not speaking.
But with a new job, an unlikely but satisfying friend combo, additional entries to "The Boy Book" and many difficult decisions help Ruby to see that there is, indeed, life outside the Tate Universe.
'The Creeper Man' by Dawn Kurtagich
When Silla and her little sister, Nori, escape London and their abusive father, Aunt Cath's country house feels like a safe haven. Leaving the smog and fear behind, the girls have the love and freedom they never had in their violent home. But slowly, ever so slowly, things begin to unravel.
Aunt Cath locks herself in the attic and spends day and night pacing; every day the surrounding forest inches slowly towards the house; a mysterious boy appears from the enclosing wood offering friendship, and Nori claims that a man watches them from the dark forest. A man with no eyes who creeps ever closer…
Which of this week's many many releases are you looking forward to reading? Let us know @maximumpopbooks!
And if that wasn't enough to quench your thirst for YA, check out what the rest of 2016 has to offer on our complete list of releases.