Get excited! It's a new week, with some fab new releases, and we're here to give you the low down on what's not-to-be-missed in the world of YA.
'The Bronze Key' (Magisterium #3) by Cassandra Clare and Holly Black
Magic can save you. Magic can kill you.
It should be a time of celebration. The Enemy of Death is dead; a severed head proof of his downfall. The magical world has no reason to believe otherwise, and Callum, Tamara and Aaron are celebrated as heroes.
But at a party held in their honour, things go horribly, brutally wrong. A fellow student is callously murdered, and it seems Call's worst fears are confirmed: there is a spy in the Magisterium.
No one is safe.
Now, using the powerful magic they've been taught, the trio must risk their lives to track down the killer. But magic is dangerous – in the wrong hands it could bring terrible destruction. And reveal the deadliest secret of all…
'The Call' by Peadar O'Guilin
3 minutes and 4 seconds. The length of time every teenager is 'Called', from the moment they vanish to the moment they reappear.
9 out of 10 children return dead. Even the survivors are changed. The nation must survive.
Nessa, Megan and Anto are at a training school – to give them some chance to fight back. Their enemy is brutal and unforgiving. But Nessa is determined to come back alive. Determined to prove that her polio-twisted legs won't get her killed. But her enemies don't just live in the Grey Land. There are people closer to home who will go to any length to see her, and the nation, fail…
'Cogheart' by Peter Bunzl
Lily's life is in mortal peril. Her father is missing and now silver-eyed men stalk her through the shadows. What could they want from her?
With her friends – Robert, the clockmaker's son, and Malkin, her mechanical fox – Lily is plunged into a murky and menacing world. Too soon Lily realizes that those she holds dear may be the very ones to break her heart…
Murder, mayhem and mystery meet in this gripping Victorian adventure.
'Lydia: The Wild Girl of Pride and Prejudice' by Natasha Farrant
A spirited, witty and fresh reimagining of Jane Austen's 'Pride and Prejudice'! Lydia is the youngest Bennet sister and she's sick of country life – instead of sewing and reading, she longs for adventure. When a red-coated garrison arrives in Merryton, Lydia's life turns upside down. As she falls for dashing Wickham, she's swept into a whirlwind social circle and deposited in a seaside town, Brighton. Sea-bathing, promenades and scandal await – and a pair of intriguing twins. Can Lydia find out what she really wants – and can she get it?
'The Graces' by Laure Eve
Everyone said the Graces were witches.
They moved through the corridors like sleek fish, ripples in their wake. Stares followed their backs and their hair.
They had friends, but they were just distractions. They were waiting for someone different.
All I had to do was show them that person was me.
Like everyone else in her town, River is obsessed with the Graces, attracted by their glamour and apparent ability to weave magic. But are they really what they seem? And are they more dangerous than they let on?
'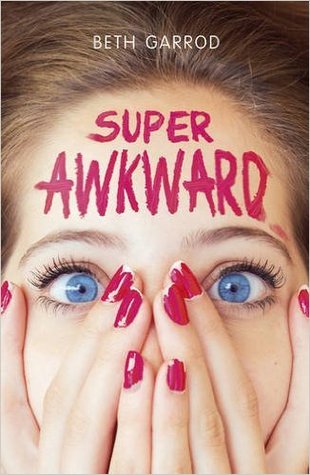 Super Awkward' by Beth Garrod
I, Bella Fisher, am absolutely WINNING at FAILING at life.
1. I once got my tongue stuck to a box of Calippos in a supermarket.
2. I accidentally called my geography teacher Mum. Twice. He wasn't impressed.
3. I'm a geek. And not in a geek-chic kind of way, but in a secretly-caring-about-failing-maths-and-science way.
4. I always fail maths and science.
So it figures that when I meet the FITTEST BOY IN THE WORLD, Zac, I'm doing solo star jumps. While dressed as a cereal box.
(NOTE TO SELF, fancy dress = HE-WILL-NEVER-EVER-FANCY-ME dress.)
Now I've got to somehow persuade Zac to come to prom with me while avoiding my evil ex and dealing with a secret so mega-awks I want to Ctrl-Z my brain… What could go wrong?Oh yeah, that's right. Absolutely everything.
Which of this week's releases are you looking forward to reading? Let us know @maximumpopbooks!
And if that wasn't enough to quench your thirst for YA, check out what the rest of 2016 has to offer on our complete list of releases.