Get excited! It's a new week, with fab new releases, and we're here to give you the low down on what's not-to-be-missed in the world of YA.
'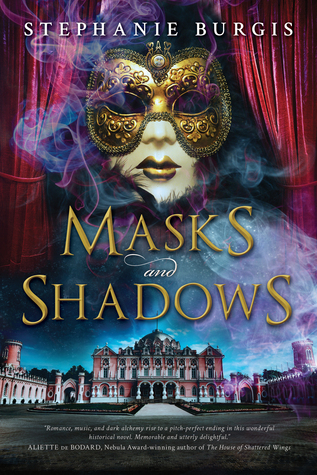 Masks and Shadows' by Stephanie Burgis
The year is 1779, and Carlo Morelli, the most renowned castrato singer in Europe, has been invited as an honored guest to Eszterháza Palace. With Carlo in Prince Nikolaus Esterházy's carriage, ride a Prussian spy and one of the most notorious alchemists in the Habsburg Empire. Already at Eszterháza is Charlotte von Steinbeck, the very proper sister of Prince Nikolaus's mistress. Charlotte has retreated to the countryside to mourn her husband's death. Now, she must overcome the ingrained rules of her society in order to uncover the dangerous secrets lurking within the palace's golden walls. Music, magic, and blackmail mingle in a plot to assassinate the Habsburg Emperor and Empress–a plot that can only be stopped if Carlo and Charlotte can see through the masks worn by everyone they meet.
'
Chasing the Stars' by Malorie Blackman
What happens when love brings loss? When love brings lies? When love brings hate?
Olivia and her twin brother Aidan are heading alone back to Earth
following the virus that wiped out the rest of their crew, and their family, in its entirety.  Nathan is part of a community heading in the opposite direction.  But on their journey, Nathan's ship is attacked and most of the community killed.
Only a few survive.
Their lives unexpectedly collided, Nathan and Olivia are instantly attracted to each other, deeply, head-over-heels – like nothing they have ever experienced. But not everyone is pleased. Surrounded by rumours, deception, even murder, is it possible to live out a happy ever after…?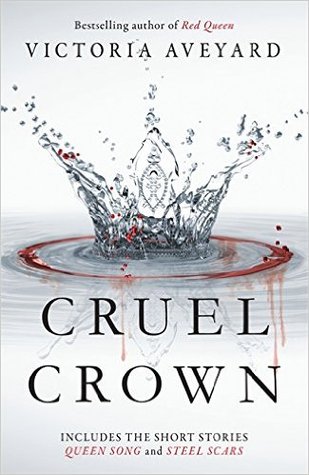 'Cruel Crown' (Red Queen #0.1-#0.2) by Victoria Aveyard
Two women on either side of the Silver-Red divide tell the stories no one else knows.
Queen Song
Queen Coriane, first wife of King Tiberias, keeps a secret diary – how else can she ensure that no one at the palace will use her thoughts against her? Coriane recounts her heady courtship with the crown prince, the birth of a new prince, Cal, and the potentially deadly challenges that lay ahead for her in royal life.
Steel Scars
Diana Farley was raised to be strong, but being tasked with planting the seeds of rebellion in Norta is a tougher job than expected. As she travels the land recruiting black market traders, smugglers, and extremists for her first attempt at an attack on the capital, she stumbles upon a connection that may prove to be the key to the entire operation – Mare Barrow.
'In the Dark, In the Woods' by Eliz
a Wass
The woods were insane in the dark, terrifying and magical at the same time. But best of all were the stars, which trumpeted their light into the misty dark.
Castella Cresswell and her five siblings—Hannan, Caspar, Mortimer, Delvive, and Jerusalem—know what it's like to be different. For years, their world has been confined to their ramshackle family home deep in the woods of upstate New York. They abide by the strict rule of God, whose messages come directly from their father.
Slowly, Castley and her siblings start to test the boundaries of the laws that bind them. There is a future waiting for her if she can escape her father's grasp, but Castley refuses to leave her siblings behind. Just as she begins to form a plan, her father makes a chilling announcement: the Cresswells will soon return to their home in heaven. With time running out on all of their lives, Castley must expose the depth of her father's lies. The forest has buried the truth in darkness for far too long. Castley might be their last hope for salvation.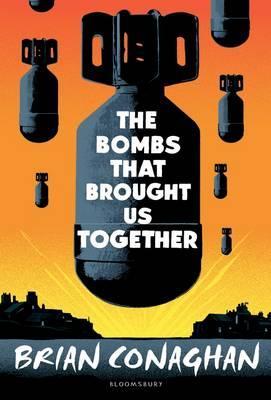 'The Bombs That Brought Us Together' by Brian Conaghan
Fourteen-year-old Hamish Law has lived in Little Town, on the border with Old Country, all his life. He knows the rules: no going out after dark; no drinking; no litter; no fighting. You don't want to get on the wrong side of the people who run Little Town. When he meets Pavel Duda, a refugee from Old Country, the rules start to get broken. Then the bombs come, and the soldiers from Old Country, and Little Town changes for ever.
Sometimes, to keep the people you love safe, you have to do bad things. As Little Town's rules crumble, Hamish is sucked into a dangerous game. There's a gun, and a bad man, and his closest friend, and his dearest enemy.
Hamish Law wants to keep everyone happy, even if it kills him. And maybe it will … But he's got to kill someone else first.
What are you most excited for? Let us know @maximumpopbooks!