Keeping secrets is hard enough as it is, so when you're a YouTuber with over 3 million Twitter followers, it becomes pretty much impossible.
But news has just dropped that one of our all time faves, Bethany Mota, has been keeping a preeeetttttyyyy big secret from us, and when you find out what it is, you are going to FREAK.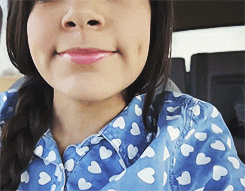 Earlier today, the YouTube fave released her newest video, where she *finally* revealed that a fully-fledged Bethany Mota BOOK is coming our way, and it's safe to say that WE CANNOT WAIT!
Bethany promises that the book will be full of  positive and uplifting advice, and heartwarming tips on how to love yourself.
Speaking about the book, Bethany said:
"I'm just a girl who is learning how to forge my own positive path, Make Your Mind Up is more than just a heartwarming memoir or lifestyle guide—this is a portrait of my life, and exactly how I live it!"
We hear you, Bethany!
In the past, Bethany has been open about life before YouTube fame. She was intensely bullied in school, and, as a result, suffered from crippling anxiety and a lack of self-confidence.
The gorge vlogger has written the book in the hope of inspiring all teenagers to be exactly who they want to be, no matter what anybody else says.

NEVER MISS YOUR FAVOURITE AUTHOR AGAIN WITH THIS BRAND NEW BOOKISH SITE

QUIZ: ARE YOU MORE ZOELLA OR GABRIELLA: WHICH YOUTUBE BEAUTY GURU SHOULD BE YOUR STYLE GOALS?
Sounds pretty amazing, right?
The book's not set for release until 14 March 2017, but the good news is, you can pre-order a copy now, yassss. All you need to do is click here, and the rest is simple!
If you do order yourself a copy, don't forget to let us know by tweeting us @maximumpop. Oh, and make sure to tag your proof of purchase with #MakeYourMindUp, because Bethany has promised to send awesome prizes along to some of her Motavators.
#MondayMotavation, complete.