Hands up who finds sleeping on their period about a thousand times more difficult than sleeping at any other time of the month?
Thought so.
If you're not worrying about oversleeping with your tampon in and developing toxic shock syndrome, you're trying to get your pad in a comfortable position, or bent over in agony with (what seems like) world's worst cramping.

But after all these years of struggling to get some proper period rest, the experts have finally hit us with their pearls of wisdom for getting the best night's sleep during THAT time of the month. *SQUEALS*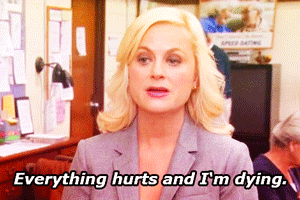 Speaking to Glamour magazine, gynaecologist Lisa Lindley explained that the best sleeping position for period-sufferers, is foetal.
Otherwise known as 'curl up and die', the foetal position 'takes pressure off the abdominal muscles', which reduces tension, pain and cramps. Sleeping on your side with your legs squeezed together also reduces the risk of leakage.
Doctor Jennifer Wider also agrees that the foetal position is best when menstruating, saying 'many women report that the foetal position can help relieve cramps'.
According to Dr. Wider, the worst position to sleep in is face down, as the bed will push against your uterus, resulting in more leakage.
So, to get the best night's rest during your period, remember – sleeping like a baby really is the way forward.
Reckon you know all there is to know about periods? Try our quiz here. If you're successful, you could win some awesome Fab Little Bag goodies (they really are as fab as they suggest).