If you missed the VMAs this week, first of all: WHAT WERE YOU DOING?!? Second of all: you totally missed Alicia Keys slaying the red carpet bare faced.
In a world obsessed with make up and sparkly pizza highlighter, sometimes it's nice to be reminded that bare is beautiful too. So we've put together a list of 19 times celebs showed us their gorgeous makeup-less faces and ROCKED it on behalf of us all.
1. Alicia Keys at the VMAs
For those who weren't watching you would have totally missed Alicia Keys' slammin' dress and beautiful bare face. If you don't follow her on social media you might not know she's recently stopped wearing makeup – and we think she looks all the greater because of it.
https://twitter.com/aliciakeys/status/770327503495958528?ref_src=twsrc%5Etfw
Amen!
2. Zendaya at Graduation
https://twitter.com/_Khasheanna/status/609161758540988416
Seriously, this gal slays with our without makeup. All day, every day. Even in the face of criticism, we can rely on Zendaya's smile to brighten our days.
Zendaya, Alicia, and many more of the gorgeous gals in this article can be found in our Snapchat directory. You know, just in case you need some more of their pretty, pretty faces in yo' life too.
3. Alessia Cara killin' it at the VMAs
Another stunning lady, Alessia Cara hit the VMAs stage bare faced too and became all sorts of #lifegoals. Please can we just be her?!
4. Taylor Swift #wokeuplikedis
Our fave country-star-turned-pop-queen, is also no stranger to the makeup-less selfie. Or a cat selfie. If Tay Swizzle can show us what she looks like underneath her make up, we totes think you should have the confidence to too.
5. Lady Gaga on her birthday
https://twitter.com/ladygaga/status/714918295623696384
Known for her glitter and extravagant glam, we almost didn't recognise Lady Gaga with a fresh face and slice of cake on her 30th birthday.
And while we're talking Gaga, she always has some brilliant self-confidence gems: Truer words were never spoken!
6. Bella Thorne showing off her natural beauty
We love it when celebs get behind body positivity campaigns like #mynaturalbeauty. We're so proud of Bella Thorne for putting her insecurities out there into the world like this!
7. Kesha dropping multiple truths at once
Our hearts broke for Kesha when it was revealed that her music producer allegedly drugged and raped her, with Taylor Swift herself donating to Kesha's cause, but that's not all she revealed on her Instagram, documenting a number of #flawless bare-faced selfies. The truth certainly is freeing.
8. Demi Lovato showing off her sun-kissed skin
GORGEOUS. A THOUSAND TIMES BEAUTIFUL. We're obsessed with Demi's freckles tbh, and this selfie makes us wants to go lay outside in the garden and soak up the last of the summer rays.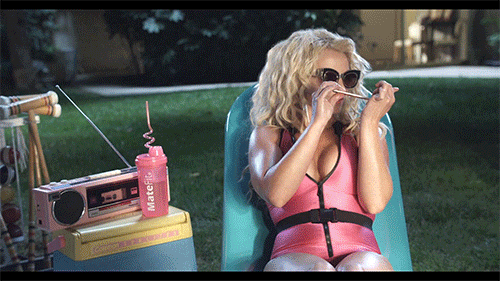 9. Laura Prepon on a mountain hike
We're used to her glam looks but this fresh faced selfie on the treck up Mount Kilimanjaro is refreshingly honest. Who has time for foundation and winged liner on a mountain hike anyway?! Laura Prepon's bare is most definitely beautiful.
10. When Lorde reminded us all she's just a normal teen too
Lorde bare faced and coated in acne cream? This is basically our life. And it's cool to remember that while she might have thousands upon thousands of dollars in the bank, she's a pretty regular gal too.
11. We're still obsessed with this Beyoncé profile
So many people choose to hide their freckles behind makeup but we're super happy with how confident Beyoncé is. You know why? Because she #flawless. And this side-shot photo, freckles and all, proves it.
12. Adriana Lima shows model life ain't easy
https://www.instagram.com/p/9ytZ-1s6k0/
We only ever seem to see supermodels decked out in all their glitz and glam but Adriana Lima is no stranger to sharing her barefaced post-workout selfies with the world. We're obsessed with how great she looks!
13. Tyra Banks is America's Eternal Top Model
We're yet to find out if Tyra will or won't be wearing makeup when she becomes a lecturer next year but we don't think anyone would care either way. Tyra is all about embracing your inner confidence and we LOVE IT.
14. Laverne Cox with no makeup and no weave
https://www.instagram.com/p/BIst9QnAmuB/
Read the caption and lay praise to Queen Laverne Cox because she is so right it hurts. It doesn't matter if you want to wear things like makeup or weaves to change up your looks but you should totes love your au naturel self too. You've got it, so rock it.
15. Gwenyth Paltrow living her best life
https://www.instagram.com/p/BEjbRfiCPQw/?taken-by=gwynethpaltrow&hl=en
If you don't know, Gwenyth Paltrow is all about living a healthy life and, if her Instagram is anything to go by, she likes to keep in touch with nature with a frequent bare face. Just look at this beauty!
16. We ain't lying about how pretty Ashley Benson looks in this one
https://www.instagram.com/p/BHp7jxEBVH7/
Poolside nude and all things beautiful, Ashley Benson's fresh face is a lovely reminder that you can still look beyond gorgeous without a trace of makeup. How can you disagree with this for proof?!
17. Morning beauty, Hilary Duff
https://www.instagram.com/p/oyVn6BtTVE/
We just can't stop sharing all these #wokeuplikethis morning selfies because they are utterly GORGEOUS. Girls, don't feel the pressure to wack on a full face before taking a selfie in the AM. Here's proof it sure ain't needed.
18. Cara Delevingne isn't monkeying about
https://www.instagram.com/p/zL_acfDKCa/
Seriously, if anyone knows how to wear the au naturel look like a BOSS it's eyebrow enthusiast, model-turned-actress Cara Delevigne. Monkey on fleek.
19. Selena Gomez looking fresh faced and gorgeous 24/7
selena gomez with no makeup appreciation tweet pic.twitter.com/WFHvOLbaL5

— ana (@leixiegrey) July 22, 2016
Okay, not 24/7 because Selena loves her glam and sparkly tour outfits as much as the next celeb, but when she wipes it all away she's still serious #goals. We definitely need more 'Selena Gomez with no makeup appreciation' tweets in our lives, STAT.
In fact, we'd totally love to see waayyy more positivity online for girls going bare. There's so much media and online pressure to have a flawless complexion and lusciously long eyelashes but we hope these 19 well-loved ladies have proved once and for all that bare really is beautiful too. You do you.
Do you dare to go bare? Let us know @maximumpop how you would fare on the red carpet without a layer of foundation to hide behind. We KNOW you'd kill it.