Okay, so we don't want to panic you, but October is only 8 DAYS AWAY.  That means we can basically start planning our Halloween threads right now, and we don't have to feel bad about it IN THE SLIGHTEST.  Yassssssssssss.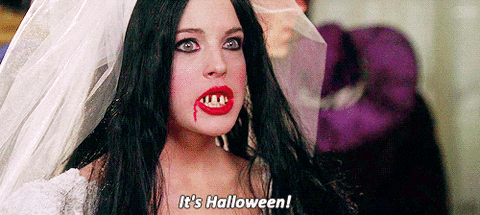 But if, like us, you can't wait a whole month until it's time to officially don your best cat ears and witches hats, then fear not, because we have the solution.
The absolute BABES at ASOS have already dropped a load of devilishly delicious Halloween goodies; and the best thing is, they're totally acceptable to wear right now.Because there are so many amazing things on the ASOS site, we've narrowed the list down to 33 of our favourite things. Your bank balance probably won't thank you, but hey, who cares when you can look good AND spooky at the same time?
1. Halloween Pointed Ballerina Flats
2.  Halloween 'My Boo' Sleep Tee
Get it for £18.

3.  Glow in the dark blood choker
4.  Cat Ear Clips
5.  Sheer Bat Ankle Socks
6.  Orelia Halloween Choker & Tattoo
7.  Motel Leopard Print Body
8. Orelia Halloween Trick Headband
Will you be getting your Halloween hat on a month early? We certainly will! Let us know by tweeting @maximumpop.