After the disappointing chart performance of Ariana Grande's comeback single 'Dangerous Woman' we were seriously thinking about quitting pop music forever and working on a tomato farm in Madagascar. We just CAN'T go on living in a world where such pop gold goes unnoticed.
But now Ari has dropped new single 'Into You,' we're confident that it has summer smash hit written all over it. Why, you ask? Because this time round there's "a little less conversation and a little more touch my body" and it's "a little bit dangerous, but baby, that's how we want it".
Yes. ARI has ramped up the sex factor and it's a little bit scandalous, which we LOVE LOVE LOVE!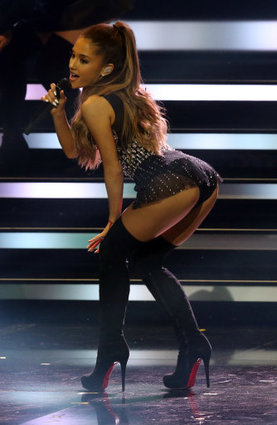 We have so much love for this glitchy electro-pop side of our favourite dangerous woman. We're just so into 'Into You' it's unreal. This is seriously a game-changing single which has us super stoked for her album 'Dangerous Woman', which will be out in just 2 weeks time on 20th May!
Hear your new favourite song here:
Did 'Into You' just blow your mind too? Join our blown-minds club @maximumpop.