BLOODY HELL! They're all at it! First Rihanna releases two videos for 'Work' and now Ariana Grande has announced she will release two videos for third album lead single 'Dangerous Woman'. And it looks like she's going to drop the first one any time now!
@ArianaGrande "Dangerous Woman Visual 1 coming sooner than Friday" pic.twitter.com/7n3zJHCxKP

— Danni (@avonmirauhlcle) March 28, 2016
To celebrate the release of the 'Dangerous Woman' vids, we've put together a Burn Book featuring some of the baddest, most dangerous female bosses in town.  Warning: excess of sass.
Ariana Grande
THIS WOMAN IS DANGEROUS! She basically committed genocide by murdering a race of aliens.
2. Rihanna
Make sure she gets her money on time, or else you'll get to meet Mr. Pointy here.
3. Lady GaGa
Known felon GaGa has previous. She married the night, swallowed a rosary and engaged in a bad romance. Oh and she also killed her boyfriend. The crimes are racking up dear.
4. Katy Perry
She's coming at you like a dark horse.
5. Taylor Swift
Those ex-boyfriends of hers have been ripped to shreds (possibly literally…). And what kind of monster would destroy such a pretty car?
6. Selena Gomez
For stabbing Taylor in the back! The ultimate girl-on-girl crime.
7. Shakira
Never trust a She Wolf.
8. P!nk
She's trouble.
9. Miley Cyrus
She is way too comfortable with that sledgehammer.
10. Beyoncé
We saved the worst till last! She's admitted to being a serial killer for god sakes. WHY DOES NO ONE TAKE IT SERIOUSLY?! #BEYSLAY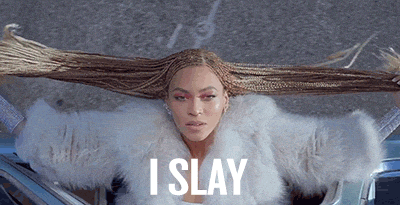 Listen to 'Dangerous Woman' here:
Excited for Ari's new videos? Tweet us @maximumpop to let us know your thoughts.