If you're fed up of people using your shoulders as an armrest, and you'd be rich if you got a pound for every time someone says, "have you shrunk?", you probably suffer from #shortgirlproblems.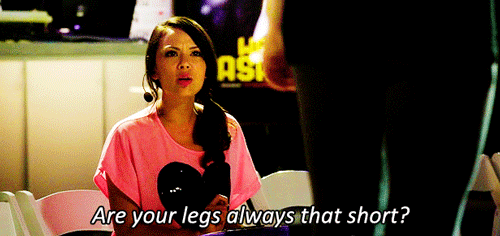 For those of us who aren't exactly blessed in the height department,  clothes shopping can be a pretty stressful experience. Jeans always seem to be a mile and a half too long, and skirts automatically become dresses.
And while petite sections are a blessing in disguise (big up Topshop and Miss Selfridge), it's not always easy to find styles you really love.
With that in mind, we've come up with seven tips to make you look (and feel) as tall as possible, without having to invest in a pair of stilts.
1. Vertical stripes are your BFF
Gone are the days where stripes seemed scary.  We've FINALLY accepted that, if worn correctly, stripes can be super flattering.
Opting for a vertical stripe will automatically create the illusion of longer legs – what's not to love?
2. Don't waste your waist
Trust us on this one –  nipped-in waists are incredibly flattering for petite ladies.
High waisted bottoms and crop tops are a dream team when it comes to getting the right proportions. That's squad goals, right there.
3. Short styles aren't as scary as you think
The prospect of showing your pins may make you want to bury your head under a pile of sand, but it shouldn't.
As a person of petite persuasion, you should embrace your height. Showing some skin will create better proportionality, giving the appearance of longer legs. Genius, right?
4. Bigger isn't always better
We wouldn't blame you for opting for a bag big enough to carry three elephants and a kitchen sink. However, if you want to look taller, you're going to have to ditch it ASAP.
It might sound like bad news, but, honestly, it will make the world of difference. Smaller bags are more proportionally correct for your frame, and won't drown you like some bigger styles .
5. Wide legs for the win
They might look scary at first, but wide-leg trousers in structured fabrics can do wonders when it comes to elongating the leg.
Think about it – if the leg shape remains hidden , it leaves much more to the imagination. Under that structured fabric, you could have legs as long as Taylor Swift. Nobody needs to know otherwise…
6. Choose your shoe shape wisely
While we all know that heels will make us look taller (duh), it's worth bearing in mind that shoe shape can also elongate the leg. By ditching the round toe, and opting for a pointed style instead, you'll make your legs look instantly longer.
To avoid cutting up the leg (and making it look shorter), avoid ankle straps and calf length styles.
7. Become a lampshade
Okay, so this hack may seem a little misleading. We don't want you to literally transform into your gran's floral lampshade…although, if that's what floats your boat, we won't judge.
Lampshading is actually a BIG trend at the moment, and it's become particularly popular with petite celebrities such as Ariana Grande, and Kourtney Kardashian. By wearing a broad hemline over a pair of knee-high boots, you'll make your legs look longer than ever.
It's a pretty universally flattering style, but for us short gals, it's a godsend.
Do you have any tips for dressing yourself an inch (or three) taller? Let us know by tweeting @maximumpop.