If you've been anywhere near a TV/phone/laptop/tablet over  the past day, you'll know that it's all been prettttyyyy horrific.
And just as we were beginning to think that there was absolutely no hope of saving our mood, the 5SOS boys have come to the rescue. #BLESSED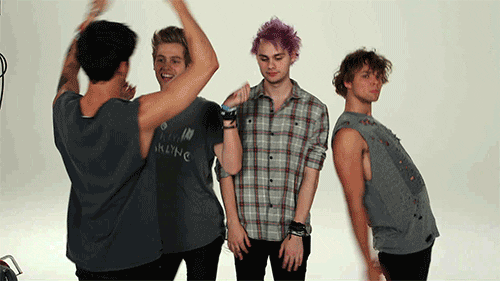 If you're a hardcore 5SOS fan, you'll know that November 20 marks Michael Clifford's bday. That means he'll be turning the big 21 in less than 2 weeks, and to mark the occasion, he's started celebrating early – with a big old  knees up in Cancun. *turns green with envy*
Earlier today,  being the absolute BABEOID that he is, Michael posted this glorious photo on Instagram:
That's a topless Michael, Calum AND Luke. WHAT A TIME TO BE ALIVE.
As, as if that wasn't enough, Calum posted this bad boy.
AAAND HERE'S ANOTHER ONE.
One more for good measure? Go on then…
SO.MUCH.BEAUTY. We actually can't deal.
The only thing missing, of course, is Ashton. But after snooping through his Instagram (for a good hour or so), we reckon he's in New York doing a spot of modelling.
While it's a shame he couldn't be in Cancun with the other boys, we reckon that Insta snap more than makes up for it.
QUIZ: WHICH MALE MUSICIAN ARE YOU DESTINED TO MARRY BASED ON YOUR FAVOURITE FIRST DATE BAG?
VOTE: IS 5SOS REALLY A BOYBAND?
Has this helped to alleviate the doom and gloom of today? Do you fancy heading off somewhere exotic with the 5SOS boys? If you could go anywhere with them, where would it be? Let us know by leaving a comment below!