Our excitement has reached fever pitch for the UK launch of 'Scream Queens' which hits E4 on October 26. But, being queens ourselves, we've already had a sneak peek at the first couple of episodes of the part black comedy, part slasher flick series and have jotted down the five reasons why you need to be tuning into it.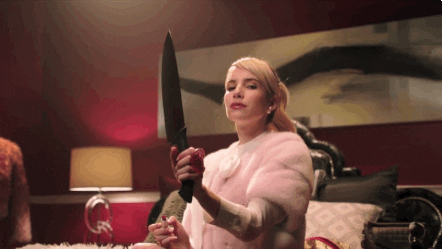 BEST. CAST. EVER.
'Scream Queens' has quite literally the best cast we've ever seen in a television show, it is the casting of dreams. Big names that appear in the series include Emma Roberts, Lea Michele, Keke Palmer, Lucien Laviscount, Nick Jonas and ARIANA. FREAKING. GRANDE.
It's basically Glee Horror Story
The executive producers of 'Scream Queens' include Ryan Murphy, Brad Falchuk and Ian Brenner. To you and I, that means "the guys that made 'Glee' and 'American Horror Story'." When you laugh, you're howling and when you're screaming… poor neighbours.
It's similar to Pretty Little Liars
The premise of 'Scream Queens' is that there's a serial killer on the loose on a college campus, with a member of the cast dying every episode. The murderer is dressed in disguise so it's our job as viewers to try and work out who's making these poor queens scream.
It gave us these GIFs…
That is all.
The main character's one liners are our favourite ever.
Chanel Oberlin – played by Emma Roberts – is possibly our favourite TV character ever. Some of her best one liners from the series so far are "Good evening, idiot hookers", "She smells like hotdog water and probably sprained her neck giving blumpkins", "Did I ask you to pull down my panties and blow a compliment up my butt?", and "I totally spit in your coffee, bitch".
If you need anymore persuasion to watch the show then take a look at the trailer.
'Scream Queens' premieres on E4 at 10pm on October 26. Let us know if you're excited for it over on Twitter at @maximumpop.