Dodie is the purest angel we know. We just want to bundle her up and squish her adorable little face. She may be several years our senior but she's completely and utterly adorkable – and that's why we love her.
When she's not writing an EP which is bound to make her one of the biggest indie popstars of 2017, she's getting real about all things mental health. What a babeoid.
---
Yas! Your favourite YouTuber is going to be the biggest popstar of 2017, trust us
Dodie Clark has opened up about having a mental health condition and we're proud AF
---
Here's 15 of our favourite times Dodie was a complete and utter dork and looked utterly adorable whilst doing it:
1. This one speaks for itself
I very nearly screenshotted it to show you

— dodie (@doddleoddle) September 19, 2016
2. That time she released an EP and was blowin up? maybe?
3. That time she wanted to show off how #cool and #edgy and #2kwl4u she was on tour
I hope my head bump lasts until my tour so I can show it off

— dodie (@doddleoddle) October 22, 2014
4. Every time she hangs out with manager Josh
Been catching up on @doddleoddle 'a VEDIF and just watched the lil q n a w/ @_JOSHEDWARDS_ It was so lovely! ☺️ https://t.co/nDfkKy4mlQ

— Sabina Hope (@ItsSabinaaa) February 8, 2017
5. When she posed for THIS school photo age 6
in other news here is 6 year old me

-perks of moving family house- pic.twitter.com/15iz44bPLK

— dodie (@doddleoddle) February 15, 2017
6. When she got her nails painted by Anna Kendrick (JEALOUS!)
This is all levels of #goals.
7. When she revealed her true fangirl self
5 yrs ago I went to my first YouTube gathering and nearly sobbed meeting @musicalbethan and @LukeIsNotSexy
I couldn't believe they were real pic.twitter.com/uK0ASqldWI

— dodie (@doddleoddle) February 11, 2017
And we thought we were the crazy YouTube stalkers, lols.
8. And when she fangirled harder than anyone ever over 'La La Land'
https://www.instagram.com/p/BOUvLugAi_K/?taken-by=doddleoddle
9. When #Dodieyellow became a thing
my stomach is so bad but at least if I die now I'll be on brand pic.twitter.com/A2bGrglDWH

— dodie (@doddleoddle) February 5, 2017
Or should we say #doDIEyellow?
10. And when she proved her cutie pie status on Insta
11. Oh, and when she tried to be all hipster aesthetic and ended up spraining her ankle
Oh Dodie you bloody eejit. Right well, what happened was I put pretty plants on my loft bed steps, so when the doorbell…

Posted by doddleoddle on Thursday, 28 July 2016
Protip: don't decorate the ladder to your loft bed with succulents, cactuses and other potted plants. Just don't.
12. When she took to scooting about London
13. And she and Jedward became BFFs
14. When she tries to make puns
@tommcfly I guess you could say he is
*puts on shades*
Busted.

*YEEEAAAAH*

— dodie (@doddleoddle) July 13, 2014
Stop coming for Evan's brand, Dodie.
15. When she's cute in literally every video she posts, ever…
We're not joking.
Seriously, so cute.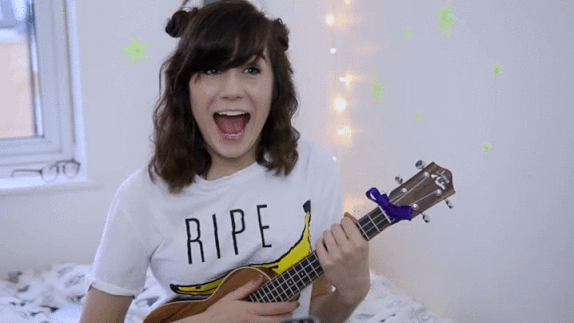 Can we have a pocket-size Dodie to carry around with us at all times please?
One thing's for sure – they don't come cuter than Dodie.
What's your fave adorkable Dodie moment? Leave a comment and let us know!