The LGBTQ+ community is thriving and moving from strength to strength in 2016. However, despite being part of such a warm and welcoming collection of people, there are certainly a lot of struggles that come along with it. Here are 11 uplifting tweets all LGBTQ+ people should read to help raise their spirits when they're feeling low: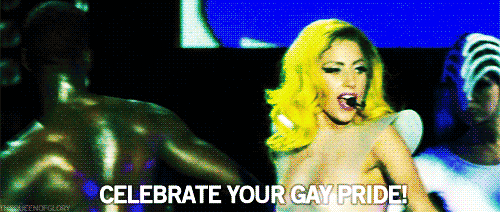 1. #GodLovesGays
Ireland votes YES and God makes a rainbow over Dublin to celebrate! #GodLovesGays pic.twitter.com/Z8zEXJIwUs

— God (@TheGoodGodAbove) May 23, 2015
2. #queerselflove is a hashtag and it rocks
Dear everyone in the #queerselflove hashtag: You are beautiful. You are magnificent. You are loved. You are needed. You are AMAZING.

— Chelsea M. Cameron (@chel_c_cam) June 15, 2016
3. Nobody is born with prejudice
We are all born to love everyone. We are taught to hate. This gives me hope… #LoveIsLove pic.twitter.com/xJIhuY3cWM

— Ranj Singh (@DrRanj) June 14, 2016
4. Even Mario Kart references are applicable to the LGBTQ+ experience
https://twitter.com/XsuperfruitflyX/status/743023486512271360
6. We can never be grateful enough to the predecessors
Loved LA Pride today. Grateful for all the lesbian, gay, bisexual & transgender icons who fought to make celebrating in the streets reality.

— Tyler Oakley (@tyleroakley) June 9, 2014
7. Trans is beautiful
It took me time to internalize that all the things that make me obviously trans are beautiful. But they are https://t.co/Jhad7ZfrSK

— Laverne Cox (@Lavernecox) April 16, 2016
8. Be proud because #LoveIsLove
Bi, Gay, Trans, Pan, Asexual, Queer, or nothing at all. Whatever you identify as, it's okay. Be proud of who you are #LoveIsLove

— winner (@goldendust) June 12, 2016
9. Love and support has continued to grow exponentially
Parents come out in support for New York Pride, 1974. A huge gesture only 5 years after Stonewall. #LoveIsLove pic.twitter.com/XEvPPQo31g

— History In Pictures (@HistoryInPics) June 16, 2016
10. It's never too late to marry the one you love
THIS IS WHY:At 11:53 a.m., 82yr old George Harris & 85yr old Jack Evans were married in Dallas http://t.co/V314aceO6Z pic.twitter.com/UhNzoayp1H

— Kristen Bell (@IMKristenBell) June 26, 2015
11. Even the animals are full of LGBTQ+ pride
We're never gonna beat Canada.

Baby moose spotted with pride flag.#LoveIsLove pic.twitter.com/yQ6t8bxU0X

— Clint Falin (@ClintFalin) June 14, 2016
What are your favourite LGBTQ+ positive tweets? Let us know @maximumpop!