Now, we can all agree that Harry Styles has made us feel something, at somepoint during the last five years.
May that be, the overload of happiness from his beautiful smile.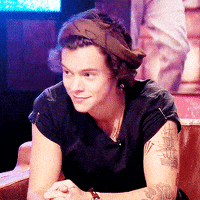 Or that warm feeling, from the thought of him being wrapped up in his blanket
Or the dirty thoughts from his not so innocent facial expression. You know what we're talking about.
We apologise, for any heart attack the last gif may have caused.
Here are 10 times Harry Styles made us feel all soft and fluffy in the past year, on Twitter:
Allowing us to have a great start to the year.
Who needs a boyfriend,  when you got Harry Styles wishing you a happy valentine?
Celebrating our 5 year anniversary,  and wondering where the time has gone?
Making us feel good about our empty pockets; due to concert tickets and merchandise.
Reliving memory of when we breathed the same air as him and the boys.
When he made us feel like it's summer, mid-way through October.
Sending us love from across the seas.
When he made us feel all teary eyed on the night of their last live performance.
When he made us feel a part of the family.
And we've got the best one for last. Him expressing his never ending love for us.
Did you feel all mushy and soft inside while reading this? Let us know over @maximumpop