Little Mix wowed us all on the stage of Wembley Arena last night as part of 'The X Factor' final. They performed latest single 'Touch' and 'Oops' featuring Charlie Puth and it was seriously amazing. We were falling in love during 'Oops' and twerking round our living rooms to 'Touch'. Admit it, you were too!
If you haven't seen it yet, watch it below!
We do love a good outfit change! The girls look insane in their zip-up outfits and even better after their reveal, ready to shake it for 'Touch'. The last time the girls performed on 'The X Factor', they were called 'prostitutes' and it seems people just won't leave them alone. This time, some viewers had a lot to say about Jesy's leotard…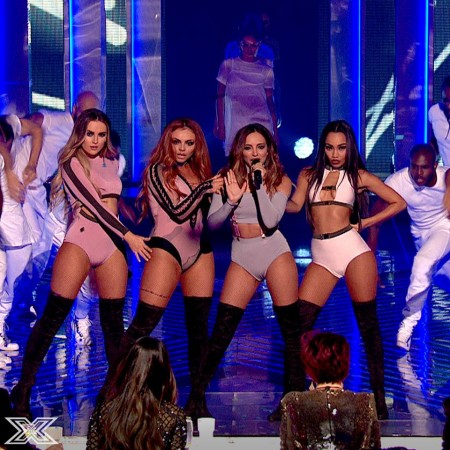 Oh my god I thought Jesy had had a black period leakage issue from her vagina but it's the print of her leotard 😂😂😂 #XFactor

— Jason (@JasnEastwd) December 11, 2016
Jesy's wardrobe assistant needs having words with! The pattern looks like a period stain!!!! 😳

— Mitch Manning (@MitchM77) December 11, 2016
Oh dear! It's clear that Jesy's bodysuit is actually camouflage print, which can be seen in the photo below.
It may be true that the darkest camouflage shade does fall on an unfortunate part of her body, but is it really necessary to say she's been caught out with her period on stage?! Even if she had, why is it a big deal? It's a totally natural part of being a female, and who run the world?
However, this viewer has it spot on.
When will people just leave the girls alone? We mean, did you hear how great they sounded?!
Find Little Mix and Jesy's Snapchat usernames in our Snapchat Directory
What do you think? Was Jesy's outfit badly designed or do the trolls just need to shut up? Let us know your thoughts below!